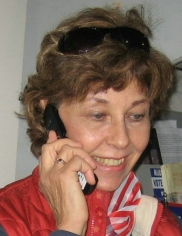 About a 5 foot 3 recovering liberal
About some kind of poetic justice
About time
About life as an amazing journey
and evolving perspective
Ellen Sander is an author, journalist, screenwriter, poet, performer and computer technology adept with a background in rock journalism and software development. You can read more about her and her works on the main
Ellen Sander Zone
website. ("Home Page" tab, above.)
I can be found on Twitter and Facebook and in myriad locations on the web. A Google search will reveal even more or see
my Google Books page
.
The custom Blogger template for Crackpot Chronicles and the Ellen Sander Zone website are designed and coded by Ellen Sander.
I am currently living in midcoast Maine. Crackpot Chronicles was started in Beijing during the Autumn of 2003, after I had been living in China for a year, as a way to comment on what was going on in my mind, my home country and my new domicile in China. It narrates several visits home, and travel in China as well. There are several
photo albums of China
(opens in new window) on my main website.
Politics takes on a particular edge to an expat and so does the perception of long-held opinions and values. I have various commentary on all of that and intermittently convey here responses to astronomical and cultural persona, objects & events as they rock my world.
Starting in May 2006, I chronicled the long way home, through Israel, Italy and Amsterdam on a vision quest to discover a new home in Maine. Coverage of the Israel -> Italy -> Amsterdam journey is amongst the most popular sequences in the blog, according to web traffic reports. Once home, I thrilled to the daily drama of the presidential campaign. Having suffered the election of 04 abroad, I was excited to be part of the historic turnabout 08 represented.
In most ways, I consider each archive a monthly magazine of my life and thoughts. Archives are available from the blog cover page (
Current Posts
tab, above) in a drop down window. Note that some of the links in posts that are years old are no longer valid.
Time. Right?
You can search this blog using the Search box in the right sidebar.
Crackpot Chronicles Blog Cover Page