Friday, November 27, 2009
Stage Fright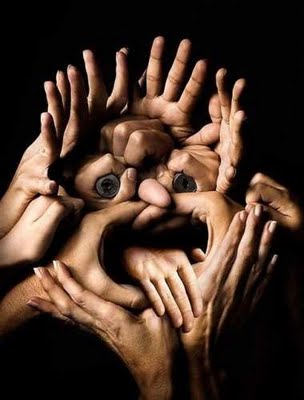 Darkness. The muffled paddle of footsteps. A forest of actors shadow around me and come to a posed standstill. Center stage right. The sound of one heart beating.
Lights.
Focus
Curtain.
Arms arcing, chin level, I aerate my larynx and let my line roll. It hangs in the air, roundly perfect..
Silence. I feel my eyes slide in their sockets. The cast slithers my horizon with venomous looks. The universe suddenly begins and ends at the perimeter of my body. The moisture on my lips evaporates. I stand frozen mid-gesture in place. The floor feels gritty underfoot.
Floor? Underfoot? Where are my shoes?
Oh. Oh
shit
!
I have no clothes on.
The audience clams. At first. Then, pandemonium rampages through the house. Trousers, neckties, garter belts, skirts, hose and shoes fly through the cacophony.
Curtain.
The Director screams in the dark. He's always screaming. He's the kind of screamer you pray isn't screaming at or about you. No doubt about it this time. My fists plunge into my face, pressing my cheeks over my eyes. Please just let me disappear.
I hear a trickle. I pick my head up into a softly clinking window-lit hubbub. I am seated, fingertips curved limply in my lap. Above, tin ceiling, below, tiled floor. Shoes. On the table in front of me, a bowl of chicken rice soup is getting cold. Pudgy white dinner rolls next to a wrapped pat of butter. A newspaper folded open to a Help Wanted page with some listings circled in blue ink. Chunky white flecked coffee mug. Waitress is pouring a refill. She calls me "hon."
Labels: Fiction
Tuesday, November 24, 2009
Message in a bottle rocket
An aurora, high above the northern part of Saturn, moves from the night side to the day side of the planet recorded
for the first time eve
r by Cassini.
These observations, taken over four days, represent the first visible-light video of Saturn's auroras. They show tall auroral curtains, rapidly changing over time when viewed at the limb, or edge, of the planet's northern hemisphere. The sequence of images also reveals that Saturn's auroral curtains, the sheet-like formations of light-emitting atmospheric molecules, stretch up along Saturn's magnetic field and reach heights of more than 1,200 kilometers (750 miles) above the planet's limb. These are the tallest known "northern lights" in the solar system.
Fom
Ciclops
, Cassini Imaging.
If your computer doesn't do Quicktime, watch it
here
at the source. It's actually bigger and better there.
These are the days of miracles and wonder, this is a long distance call (Paul Simon)
Enjoy your gratitude. I'm immersed in mine. Among my blessings, I give thanks for you.
Saturday, November 14, 2009
How now
I hope you are well. Life has been rather intriguing lately, but I've been almost completely seduced by microblogging on Facebook and Twitter, so have not posted here for some time. The former reconnected me to so many people from my literary and music-biz past, as well as all you Angelenos I miss, and the latter is a way to quip back and forth with friends all over the world and connect me with a whole bunch of local techies and trendies with whom I might not have otherwise connected. I went to my first tweetup at a most sumptuously secluded coastal restaurant and bar down a turn off the road that I never even would have known existed. It became a jazztime happy hour stop on my summer itinerary. Buyaa Internet.
Life in a small New England town gets richer every month. Local culture, the art, the poetry, the films and local University extension are as enthralling as the natural beauty that surrounds us. My kids finally visited in August and were flabbergasted at "The way life should be" (one of Maine's sobriquets).
Sen. Olympia Snowe, who is now a national rockstar, cruised through town yesterday and was spotted at
Aarhus Gallery
. (Aarhus is a favorite local art and event spot.) Sorry I missed you, Olympia. I'd love to shake your hand. I've lived in New York and in California and (therefore?) have never been represented by a principled politician before. Even if she is a Republican. There is a respectable side to Republican principles. We don't see it much nowadays, but there is.
The Belfast Poetry and Art Festival has come and gone, marking my 3rd Anniversary here. They've been good ones!
I've put up a Twitter widget in the right sidebar, so you can keep up with me without joining Twitter. And so I won't feel so guilty about not keeping this blog up. Every time it gets some momentum, I neglect it. Winter is coming and I'll have more time to write.