Wednesday, March 24, 2010
This blog has moved
This blog is now located at http://ccblog.ellensander.com/.
You will be automatically redirected in 30 seconds, or you may click
here
.
For feed subscribers, please update your feed subscriptions to
http://ccblog.ellensander.com/feeds/posts/default.
Monday, March 22, 2010
Saving it for history - or at least eBay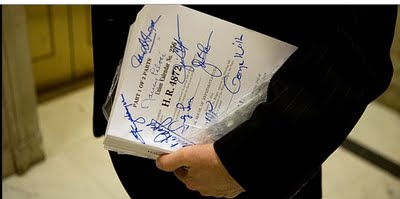 A major moment in the history of American domestic policy. The country now has a health care policy. It's not perfect, and most of it won't take effect for years, but it is certainly better than what we did have. I watched it happen all day and into the night last night, astonished at the acrimony of the Republicans, who have been called "a wholly owned subsidiary of the insurance industry." Now we need to fix congress so it's a respectable legislative body and not the mud-wrestling partisan boondoggle it's become.
Thank you Obama, for sticking with it. He is something!
This is what we've learnt this year: Obama does not mind defeats if they are procedural or about others saving face. He seems oddly impervious to personal insult: he doesn't mind being affronted by the Chinese or humiliated by Netanyahu as long as it's a matter of symbolism. On substance, he wants what he wants; and, o...n the big stuff, he has given up on nothing yet. - Andrew Sullivan, London Times